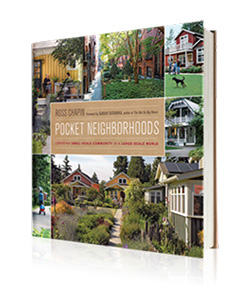 As soon as the motorcar became common, the pedestrian scale of the railroad neighbourhoods disappeared, and with it, most of its individuality and charm. The suburb ceased to be a neighbourhood unit: it became a suffused low density mass. But the motorcar had done something more than destroy the pedestrian scale, it either doubled the number of cars needed per family, or it turned the suburban wife into a full time chauffeur.
—Lewis Mumford, urban historian
The City in History, 1961
Pocket Neighborhood Codes

Pocket Neighborhoods are allowed to happen, or not, by the zoning codes that regulate development. Unfortunately, zoning regulations in many jurisdictions in America date back to the 1950s and 60s when suburban standards for single-family homes were the norm. Pocket neighborhoods may not fit these narrow prescriptions in a number of ways, making them difficult to develop.
Sometimes, a city may have a Planned Unit Development (PUD) code in place that may offer enough flexibility for a pocket neighborhood approach. And many towns and cites are writing new codes to accommodate a wider choice of housing options, including pocket neighborhoods.
In the 1990s and 2000s, "Cottage Housing" codes were developed to offer incentives for increased housing diversity and affordability, primarily for one- and two-person houslds and directed toward small infill sites of an acre or less. Many towns and cities, however, are writing new codes to accommodate a wider choice of housing options, including pocket neighborhoods. The Municipal Research and Services Center in Washington State has compiled links to several cities that have adopted cottage courtyard codes, as well as a synopsis of 'cottage housing' and related articles. Another source for further information is The Housing Partnership. In 2001, after the success of early cottage courtyard developments in the Puget Sound Region, they wrote "Cottage Housing in Your Community", a guide to drafting cottage housing ordinances that provide general considerations and parameters for such codes.
Cottage Housing codes work well on small sites, but what if a site is larger, say 5-acres, or 20 acres? What about serving a variety of household types, not just small households in cottages? Ross Chapin Architects (RCA) has been developing site plans that have multiple pocket neighborhood clusters with smaller and larger homes, detached as well as attached, all linked within a larger pedestrian-oriented neighborhood. To enable these developments, RCA has written a model Pocket Neighborhood Community Development code.

If your city or town has a pocket neighborhood, cottage housing or innovative housing ordinance, we'd like to know about it. Please write us.