About





Beginnings



In 1996, architect Ross Chapin and developer Jim Soules collaborated on building the Third Street Cottages, a cluster of eight small cottages around a shared garden. The cottages were tucked off a busy street, which seemed to Ross like a pocket safely tucking away its possessions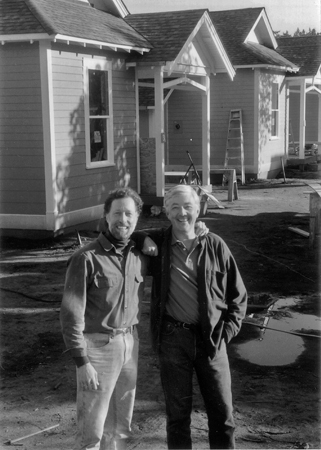 from the world outside. He began calling it a "pocket neighborhood", and the term stuck.

The cottages had a very approachable style that everyone seemed to love. Yet beyond their appearance, it became immediately clear that they tapped a deep, unmet longing for community. Soon after their completion, word got out about them, and the response from across the country was electric — from single women to young families, empty-nester couples, and children with elderly parents, calls and letters came in asking for more "real" communities like this. Planners, developers, architects and citizen activists asked about the zoning that made it possible, the kinds of people who lived there, and how pocket neighborhoods fit into existing communities.

In further joint-venture projects, Ross and his team at Ross Chapin Architects, and Jim Soules and Linda Pruitt with The Cottage Company continued to design and build variations of pocket neighborhoods to test the market around the Seattle area for these small-scale communities. At the same time, RCA began to design pocket neighborhoods for other developers around the country. Clearly, there was room for other approaches to housing than the single-family house on a private lot or attached condo.

Taunton Press took notice as well, asking Ross to write an article about the Third Street Cottages for Fine Homebuilding Magazine. The next year, the project was featured in Taunton's best selling book, Creating the Not So Big House, by Sarah Susanka.

Taunton also approached Ross to write a book about pocket neighborhoods — a project taking 5 years to complete. Ross researched the pocket neighborhood idea and discovered a rich heritage of historic precedents, as well as a wide range of contemporary examples across America and around the world. He identified key design principles that helped to foster a sense of community, preserve household identity and privacy, and integrate into surrounding neighborhoods. He also came across many stories of 'pioneers' who imagined and built "living" communities. Much of this information made its way into the book, "Pocket Neighborhoods: Creating Small Scale Community in a Large Scale World".

This website augments the book, providing further resources, examples and essays.