About





Ross Chapin



Ross Chapin is an architect and long-time advocate for sensibly sized houses and vibrant neighborhoods. He leads an architectural and planning firm on Whidbey Island, north of Seattle, Washington, where he has lived and worked since 1982.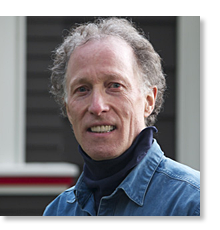 Their focus is on custom residential design and pocket neighborhood planning in the Northwest Region and across North America.

Ross has been a development partner on six pocket neighborhood projects, and has designed more than 3-dozen neighborhoods across the country for other developers. Many of these innovative housing and neighborhood prototypes have received national media coverage and professional peer review, and have shifted mainstream thinking about housing.

Projects by Ross Chapin Architects have won numerous design awards, including the 2005, 2007 and 2009 American Institute of Architects Housing Awards, and have been published in the New York Times, Wall Street Journal, Forbes, Fine Homebuilding, Metropolitan Home, This Old House, Builder, and more than 30 books, including Solving Sprawl, Superbia, Creating the Not So Big House, Patterns of Home, The Good Green Home, The New Cottage Home, Blueprint Small, among others.

In practice, Ross's work spans the scale from neighborhoods to clusters of houses, individual buildings and surrounding gardens, to rooms, built-in furnishings and ¼-inch-trim. What ties it together is a desire to "make the places we live in more vibrant, coherent and whole." There is a decidedly personal and social dimension to his approach to building, where every aspect of design "strives to nourish the individual, support healthy relationships, and foster a strong sense of community."



Homage to Christopher Alexander



Ross Chapin's approach to design has been deeply inspired by work of Christopher Alexander and his colleagues. In 1976, he came across their working manuscript of A Pattern Language (APL) at the UC/Berkeley library and immediately felt a resonance. He was not alone. After it was published, APL became a seminal book for an entire generation of architects, planners, do-it-yourself builders and garden designers, as well as computer programmers and linguists. This, and later works by Alexander, including A Timeless Way of Building and The Nature of Order, gave structure to Ross's intuitive/felt sense of design. As one who considered that "design is play", the clear framework and reasoning of these ideas helped bring the results of his play into deeply satisfying places to be in. As Ross recalls, "Alexander's ideas helped me understand how buildings and outdoor spaces can become 'real' and 'alive', and how they can support or hinder our relationships as human social beings. These terms may be unmeasurable— yet each of us can feel these qualities when we're in such places." This is apparent when walking through the buildings and spaces that Ross has had a hand in creating.