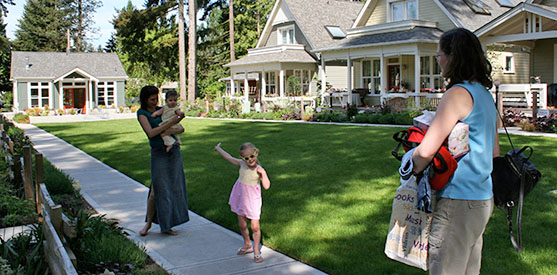 Project: Danielson Grove
Architect: Ross Chapin Architects
Developer: The Cottage Company
Active Commons



If the central commons is merely a pretty space to look at, neighbors will have fewer opportunities to interact in the daily flow of life. Therefore, arrange mailboxes, parking areas and commons buildings to have residents walking through the commons to their front doors. Rather than having homes turn their backs from their neighbors, orient the active interior rooms so they look onto the shared space. To ensure privacy, refer to 'Layers of Personal Space' and 'Nested Houses'.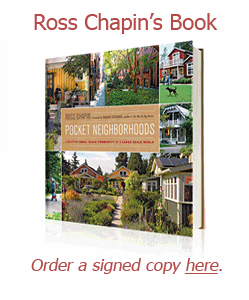 There is no greater expression of neighborliness than showing kindness to someone you may never know. We can give gifts to strangers in person, of course, but our buildings can do it, too. Imagine what your neighborhood would be like if every home and shop gave a gift to the street! Wouldn't it encourage you to walk more, where you could savor those gifts, rather than just zipping by in a car?
—Steve Mouzon, architect & planner
The Original Green