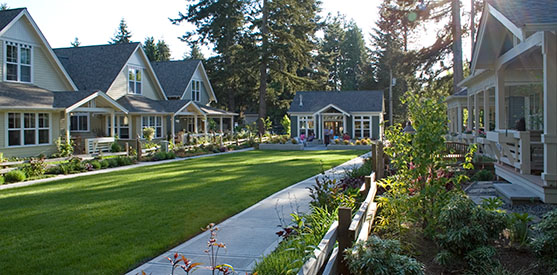 Project: Danielson Grove
Architect: Ross Chapin Architects
Developer: The Cottage Company
Rooms of Public Space



Think of the street and the shared commons as 'rooms', with buildings, landscaping and fences forming the walls of the room. In light of the pattern "Connection and Contribution", use the improvements to buildings and gardens to strengthen the 'roomlike' quality and unique character of the street, or the shared commons. If the surrounding houses or streetscape have few redeeming qualities, consider initiating new patterns that neighbors will be inspired by.

Make every space have a 'roomlike' quality, with no backsides facing forward (like a blank sidewall of a building). This can be a tough challenge: pocket neighborhood courtyards by nature are inward facing, while houses on the street have an outward face. It's possible to have both if the spaces dovetail together (see Examples).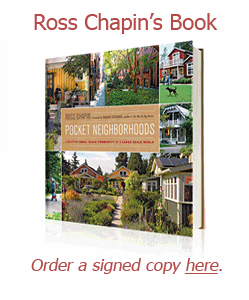 I call these coherent, partly enclosed public spaces, the HULLS of public space. Each is like a boat, or like the shell of a nut, each one holding and forming a kernel of interior space contained. The hulls are the spaces that give communal structure to a town or to a neighborhood.
—Christopher Alexander, architect, builder &amp theorist,
The Nature of Order, Book 3